The obtained certificates confirm the skills in working within the 3D CAD SolidWorks graphic system. They confirm the knowledge and experience gained while handling the program. 
CSWP
Anyone who received CSWP certificate can confirm to have competences in the area of designing and analyzing parametric parts and mobile joints with the use of various and complex operations within SOLIDWORKS.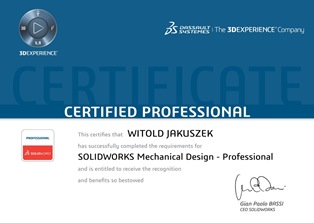 CSWA 
CSWA certificate confirms the knowledge of SOLIDWORKS® and modern skills that are sought-after and valued among companies.